Roofing specialists in Medway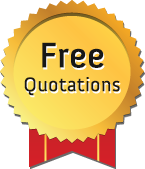 With a wealth of experience working on the area's roofs, we're sure that, whatever the issue, we're the only roofers you need to call. As a firm of roofing specialists you can be confident that we'll provide you with an honest and fair quote for a good job. We've relied for years on word-of-mouth business across the area, and can guarantee 100% customer satisfaction on each and every job.
When it comes to staff, we only hire the best roofers available and that, combined with a wealth of experience working on a wide range of roofs, means that we're confident that, if you live in the Medway area you never need call anyone else. We'll offer you a reliable service that won't break the bank.
Why are we the best option for you?
We're a local firm that know local communities well. We've always been incredibly proud of our reputation, and are confident we provide a healthy mix of professional roofing and great customer service.
We're a company that pride ourselves on customer service and hard graft
We'll discuss your requirements on the phone, or take a look and provide an obligation-free quote
We're expert roofers - it's all we do - and we provide a 100% guarantee on every repair
We're happy to pass on any references you might need to make sure we're the roofers for you
A comprehensive list of roofing services
From local pubs to ancient churches, Medway has a rich history and that brings with it a variety of architecture. Working on these roofs has meant that we've been coping with a huge variety of repairs. Visit our comprehensive list of services to find what you're looking for and, if you can't find the repair you need, don't hesitate to give us a call.
No matter how big or small the job may seem, we cover everything from loose tiles to chimney repairs. No matter what the problem, we'll be more than happy to help.
Get In Touch
Regardless of whether you're looking for a speculative quote or want a repair as soon as possible, give us a call on 01634 790 468. One of our friendly team of roofers will happily discuss your options with you or arrange an obligation-free visit to your house.